How To Get Here?
What is it for?
All of SellerLegend's settings can be reached through this gateway screen
However, some of the individual settings screens can also be reached from other places in context
Screen Print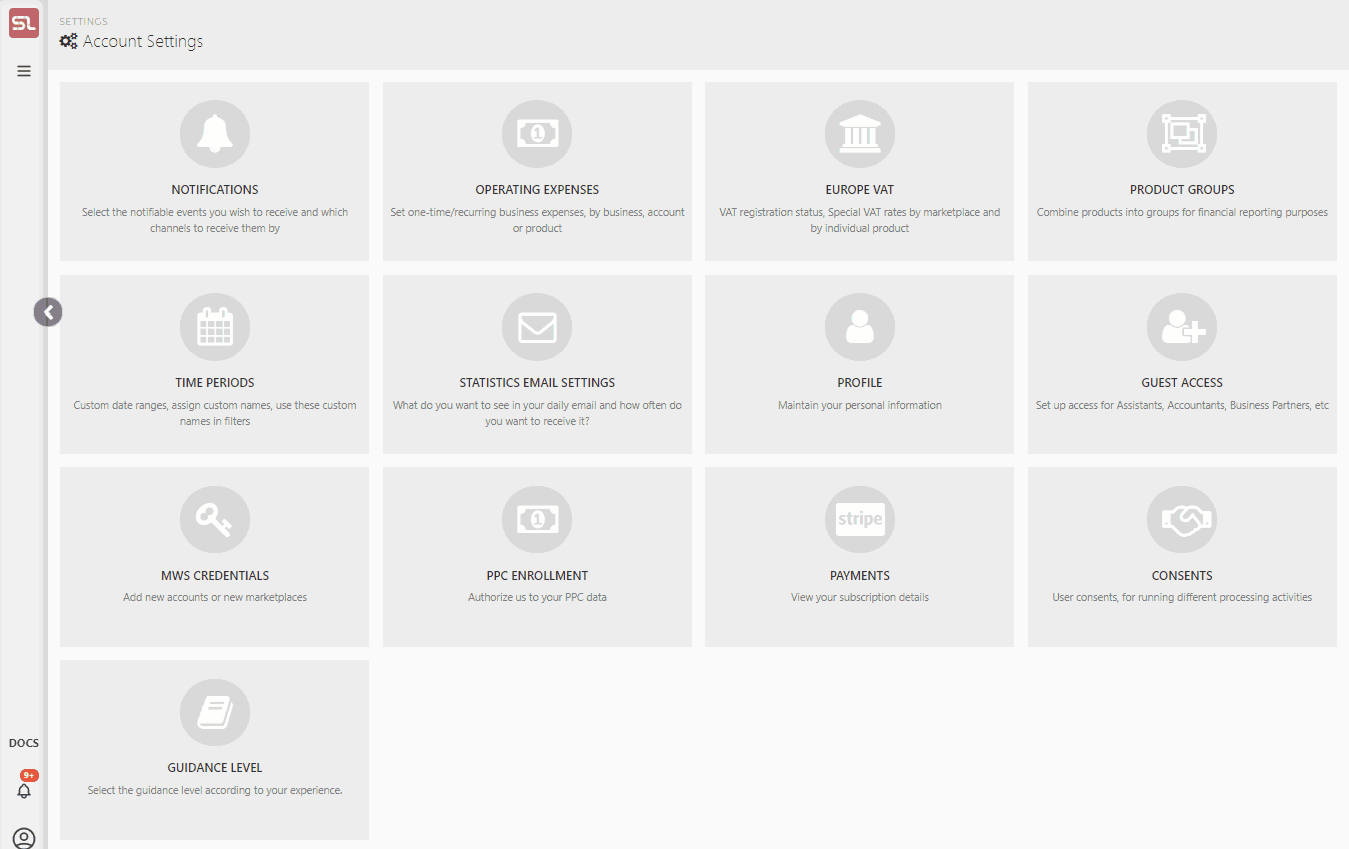 Content
(*) denotes features not yet implemented at the time of writing
Notification Settings

Click this button to define which business events you want to be notified about and how to be notified
There are numerous business events that SellerLegend can monitor and alert you when these events materialize
Some of the events which can be notified are Inventory Alerts, Product Listing Changes, Loss Of Buy Box, Orders by Watchlisted Customers, and numerous others
The list of Notifiable Events will keep growing going forward
Learn more about the Notification Settings Screen
Operating Expenses Settings

Click this button to set up your daily/periodic expenses
Set one-time or recurring business expenses by the business, marketplace or individual product
Learn more about how to manage Other Operating Expenses
Europe VAT Settings

Click on this button to set up VAT time periods and percentages.
To set/override the Marketplace default VAT rate or reduced VAT rate
To record your date of VAT registration or VAT de-registration
Learn more about the Europe VAT Settings Screen
Product Groups Settings

Click this button to define groups to aggregate multiple individual products
Combine products into groups for financial reporting purposes for a set of related products
Learn more about Defining And Using Product Groups 
Custom Time Periods Settings

Click this button to define and name specific date ranges which are pertinent to your business
Select the assigned date range name from a drop-down box in any date-related filter rather than having to remember and enter from-to date pairs
Learn more about Defining and Using Custom Time Periods 
Statistical Email Settings
Profile Settings

Click this button to define your personal demographic settings
Use the profile settings screen to change the SellerLegend Log-in email address
Enter your business billing, address, and tax details
You can enter your address details and Company registration details, as well as your VAT number
Learn more about the Profile Settings Screen
Guest Access Settings

Click this button to define additional accounts to access your SellerLegend Data
Use this feature to grant SellerLegend access to your VA, business partner(s), or accountant
Learn more about Defining Guest Accounts
PPC Enrollment Settings

Use this button to grant SellerLegend the authorization to access your Sponsored Products data
SellerLegend is using a brand new Amazon-developed API (which is still in beta) to access your Sponsored Products data
This requires separate authentication. Use this setting screens to provide permission to SellerLegend
Learn more about the PPC Beta Enrollment Screen
Payments Settings

Use this button to see details about your subscription
You can also change your credit card details, cancel your subscription, resume your subscription after cancellation and skip the rest of your trial period to allow full onboarding of your data
Learn more about the Payments Settings Screen
Consents Settings

Click on this button to receive all specified notifications in the Notification Settings screen.