The Customer Segmentation Settings Panel
How To Get Here?
From the Main Dashboard: Scroll down until you see the Customer Segmentation Widget.
Then click on Segmentation Rules.
What is it for ?
Customer Segmentation is a way to assign customers to a named performance tier, based on the specific sales behavior of the customer
You can, for example, group your customers into different tiers, like Platinum, Gold, Silver …
The assignment of a customer to a specific tier will be performed automatically by SellerLegend, based on the customer's sales performance
You can name the individual tiers (segment) to your own liking
You can assign different individual tiers (segments) per marketplace
You can define the financial or units amounts that bind a customer to a specific tier (segment)
Once the segmentation rules are defined, SellerLegend automatically maintains the segments as customers place more orders
Where Can I See The Outcome Of Customer Segmentation?
In the Customer Segmentation Widget of the main Marketplace Dashboard

The widget shows a pie chart with the proportion of each customer segment for the chosen Marketplace

In the Customers List Screen

The column Tier shows the segment the customer belongs to

In the Order Modal Screen, when you click on any Order number

There is a Tier field in the Customer Details section of the modal which shows the segment the customer belongs to
Screen Print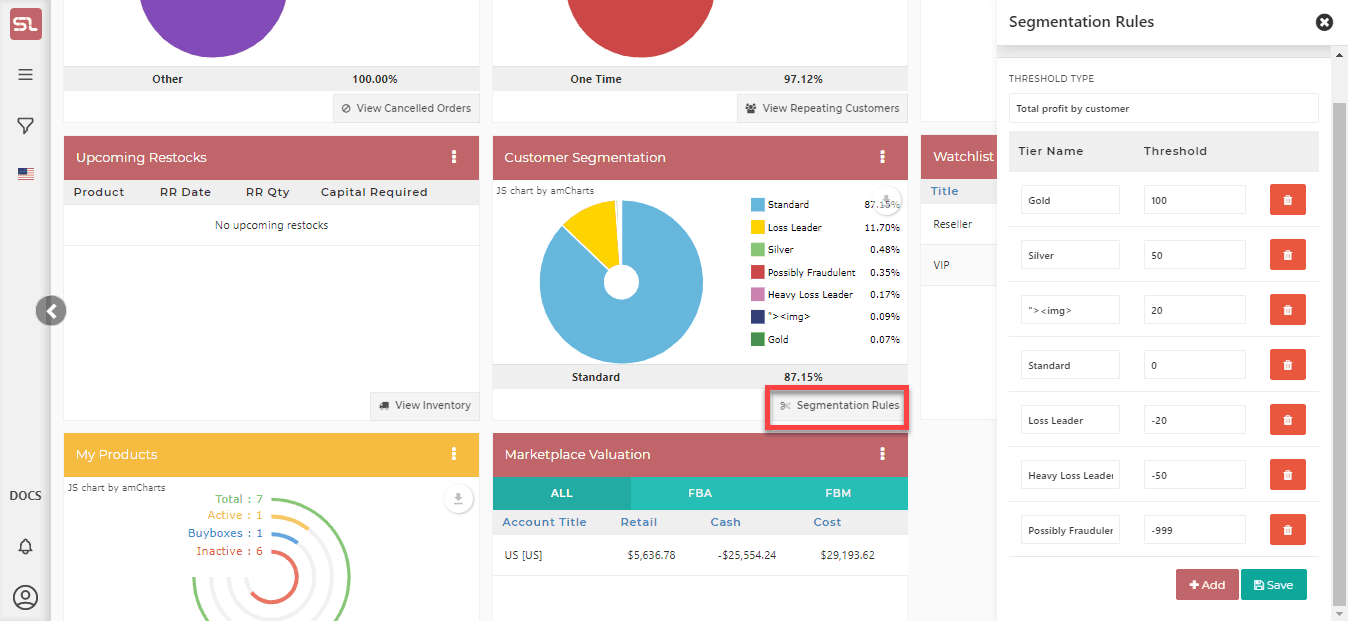 Content
(*) denotes features not yet implemented at the time of writing
Choose Your Marketplace Account

Select the marketplace whose customers you want to segment into tiers
You can have a different set of segmentation rules per marketplace
Threshold Type

Chose how you wish to measure customer sales performance to assign the customer to a tier
Your choices are

By Number Of Orders
By Number Of Units
By Total Customer Profit
By Total Customer Revenue
Tier Name and Threshold

Define and name up to 10 different tiers for each marketplace
The Tier Name can be anything you wish
The Threshold is the number of orders|units or amount of profit|revenue which the customer needs to accumulate to belong to the specific tier
The customer is assigned to the Tier Name when he/she exceeds the number/amount specified in Threshold
In the screenshot above, the customer will be assigned to the Platinum tier is he/she exceeds $200.00 in total profit (assuming this is defined for a US marketplace)
Still, in the example above, the customer will be assigned to the Gold tier if he/she exceeds $100.00 profit, up to $199.99.
The best way to define the tiers is to start at the top tier and enter the amount to exceed for the customer to qualify for that tier
Next, enter the second highest level and threshold to exceed
Thresholds can be negative, so you can also segment customers which have caused you a loss into a separate tier.