The Other Operating Expenses Settings Screen
How To Get Here?
From the Menu

Settings –> Operating Expenses
What is it for?
To define the periodicity of recurring business expenses
To assign business expenses to specific marketplaces
To assign expenses to specific products
To define one-time expenses
Expenses are deducted from your revenue and affect your profit
You can see the expenses as they are incurred in your settlement periods
Expenses are also reported on the overall and product dashboards
Tips And Tricks!
You can enter negative expenses if you want to reverse an invalid, duplicate or incongruous settlement period entry
A negative expense adds to your revenue and therefore inflates your profit
Screen Print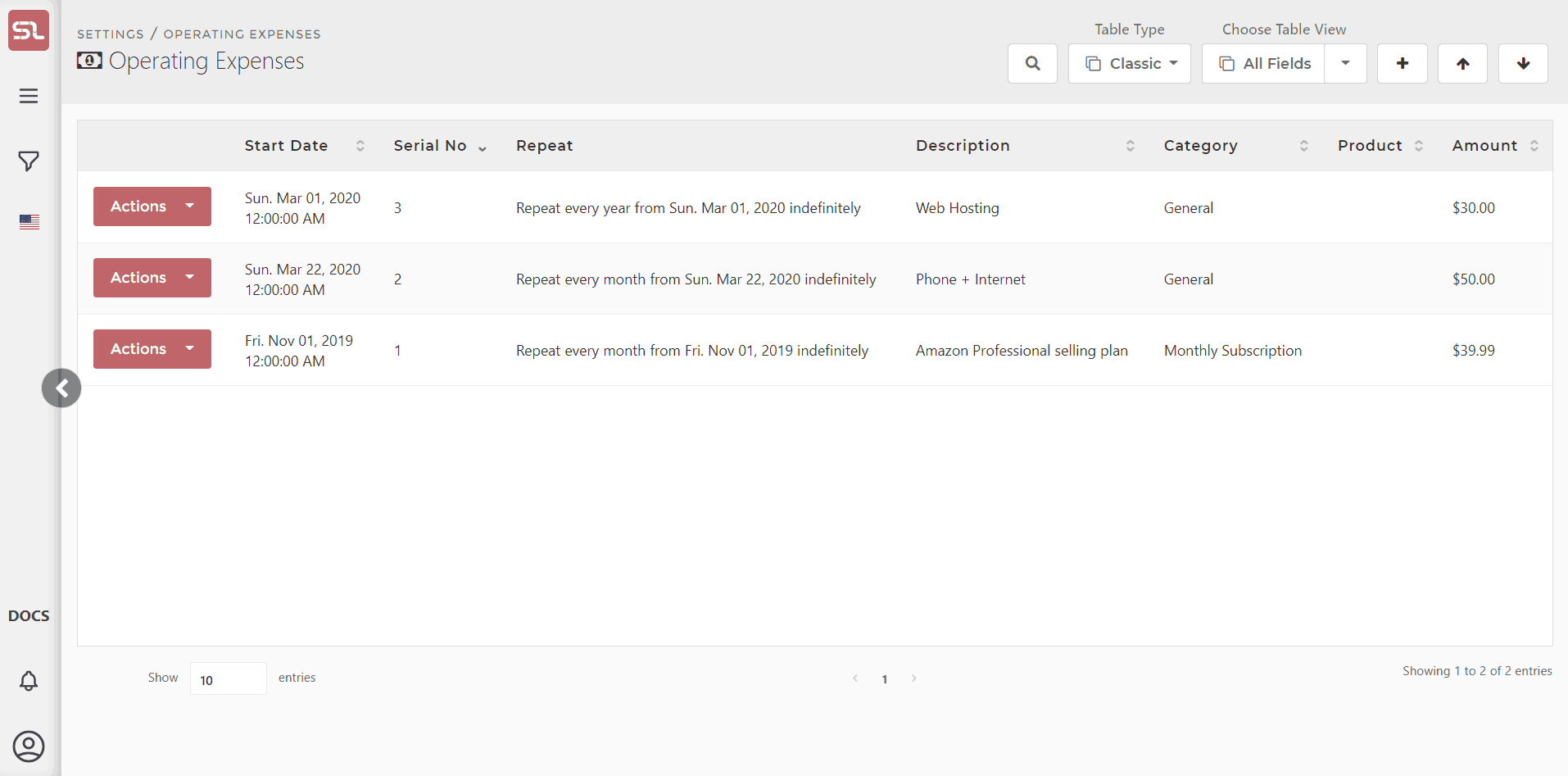 Content
(*) denotes features not yet implemented at the time of writing
Description

Provide a description of the expense
Category

Enter a category of your choice
Categories are free-format
Expenses with the same category will be summarized on one line in the settlement periods
Product

If the expense is specifically attributable to a product (for example, product packaging design costs), enter the appropriate product here. If not, leave blank.
Enter any character(s) which can be found on either ASIN, SKU or internal name. A drop-down box with all possible candidate products containing those characters will be presented for you to chose from.
Account

If the expense is specifically attributable to a marketplace, enter the appropriate marketplace here. If not, leave blank.
Amount

Enter the amount of the expense
This needs to be expressed in the currency of the marketplace
Actions
Add Other Expenses

Clicking on the + button or the 'Add Other Expenses'  button will add an empty expense line
Save

When you have entered all your expenses, or after each expense, clicking on the green Save button will commit the changes to that expense
Delete Expense

Clicking on the red dustbin button will delete the expense
View Incurred Expenses

Clicking on the blue dollar bill button will show all the already incurred expenses for this particular expense.